Ripart's Anomalous Blue (Polyommatus ripartii)
2022 photographs highlighted in blue. Click on any photograph to go to an enlarged picture, or simply scroll down the page.
| | | | |
| --- | --- | --- | --- |
| | | | |
| 17001_male_Var_30Jun09 | 33929_male_Alpes-de-Haute-Provence_15Jul13 | 26073_male_Alpes-Maritimes_01Jul11 | 35714_female_Alpes-de-Haute-Provence_29Jun14 |
An uncommon species, which I saw for the first time in 2009. It is one of a group of very similar so-called anomalous blues that occur in Europe, although ripartii is the only one to occur in France, resolving any question of identification which seems to be a major problem in other areas of southern Europe where more than one anomalous blue occurs. Its name is rather ridiculous in that the anomalous element of the name refers to the fact that that the male uppersides are brown not blue!

It could only really be confused in France with the Damon Blue (P. damon) which has a similar underside, although the upperside of the male damon is bright blue and could not be confused in flight.

The female damon has a brown upperside and therefore could be confused with ripartii. I have noted what I believe to be the key differences on the damon page. The female Furry Blue (P. dolus) is also not too dissimilar.

It is a species of intermediate altitude, Lafranchis giving its range as 400-1400m. Damon is often found much higher than that, which could also be a clue to identification.

This species was previously known as Agrodiaetus ripartii.
| | | | |
| --- | --- | --- | --- |
| ref | sex | observations | alt. m |
| 17001 | M? | I am guessing that 17001 is a male based on the slightly less rounded shape of the hindwing at the anal angle, and the fact that I saw it at what was apparently the start of the emergence at a site I visit regularly (males of most species tend to emerge about a week before the females, true for most species). Flimsy evidence, though. | 920 |
| 33929 | M | a male, puddling. This species seems to show very little variation. | 1060 |
| 26073 | M | the deeper brown colouring and the rounded shape of the hindwing especially at the anal angle, suggested that this is a female. Also, the T&L illustrations show more pronounced unh marginal markings for the female, but how consistent or reliable that is, I am not sure. However, on studying the magnified image, the end of the foreleg appears to be hooked, which confirms that this is a male. | 900 |
| 35714 | F | a female, I suspect, based on the rounded wing shape. | 680 |
33929_male_Alpes-de-Haute-Provence_15Jul13
26073_male_Alpes-Maritimes_01Jul11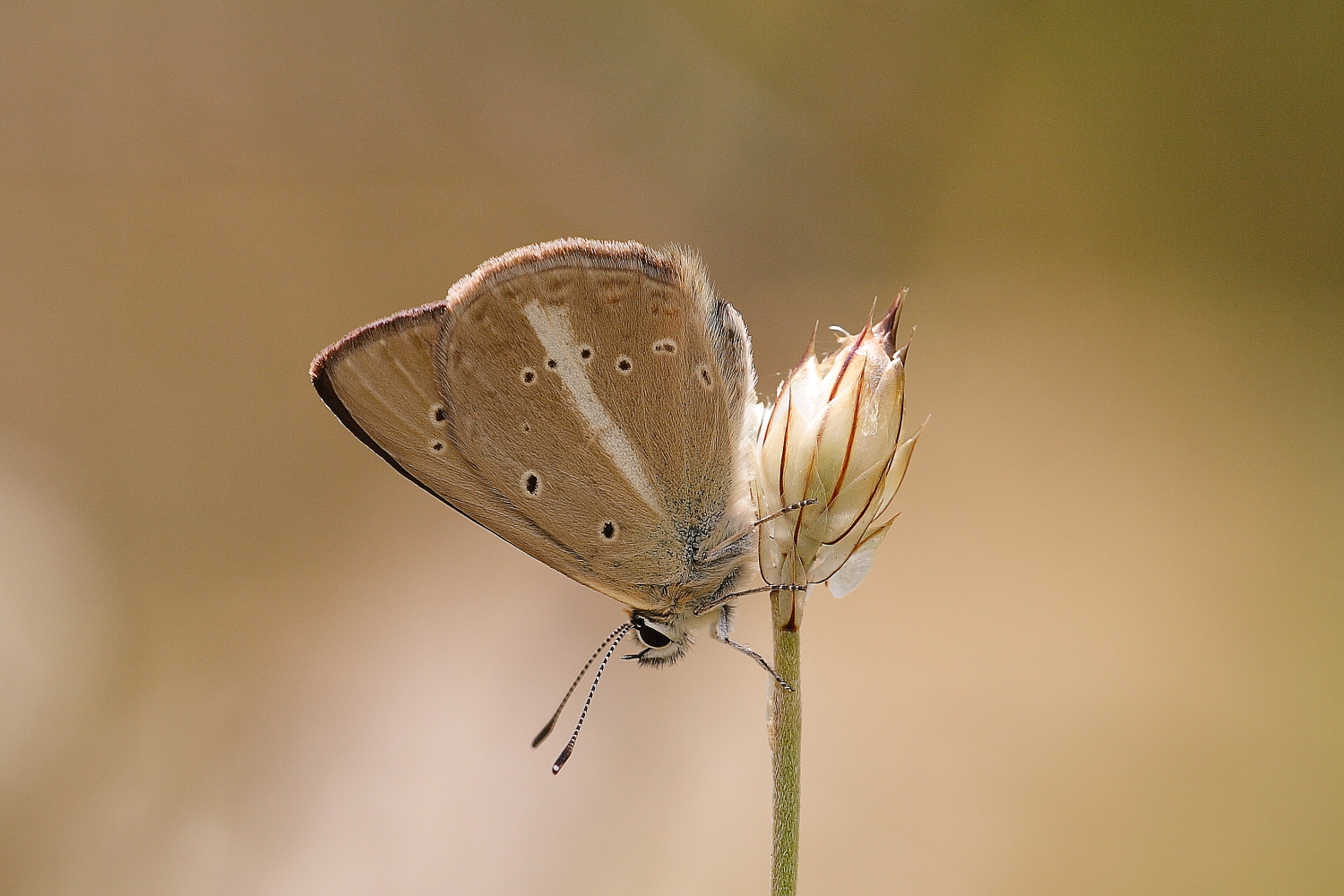 35714_female_Alpes-de-Haute-Provence_29Jun14