Olive Skipper (Pyrgus serratulae)
2012 photos highlighted in orange. Click on any photo to go to an enlarged picture, or simply scroll down the page.
| | | |
| --- | --- | --- |
| | | |
| 18205_male_Isère_12Jul09 | 17795_male_Hautes-Alpes_10Jul09 | 22476_male_Isère_17Jul10 |
| | | |
| 3742_female_Alpes-de-Haute-Provence_14Aug06 | 18308_male_Isère_13Jul09 | 25699_sex?_Alpes-Maritimes_11Jun11 |
A medium-sized Pyrgus that I encounter most frequently at medium to high altitude, even though the altitude range given by Lafranchis is 0-2200m. It has a medium dark brown upperside ground colour and the female is said to have a brassy olive tinge, although I have never seen this, but probably because I have not seen many fresh females. The upf is very lightly marked with smallish white spots in both sexes, usually more strongly marked in the male. The uph is almost completely unmarked except for very pale, almost vestigial, markings. The unh ground colour is olive to yellow-green,

this being the reason for its English name.

The unh distinguishing features are the rather solid arc-shaped marks in marginal s1/2; the discal s1 rounded but non-leaning bump; the discal s4/5 mark being relatively narrow and flat-edged internally and of about the same width as s6/7; and, most often quoted, the basal spot in s7 is circular or oval(-ish), although the limits of this feature are unclear as I suspect that there are serratulae where this mark is rather rectangular with heavily rounded corners and in this respect could give rise to confusion with other species.

However, I have seen examples of what must be serratulae where the extent of the white marks is considerably greater than the classic pattern.
| | | | |
| --- | --- | --- | --- |
| ref | sex | observations | alt. m |
| 18205 | M | from the lightness of the markings, I don't think this could be anything other than serratulae. A male, as indicated by the abdominal hair tuft and its puddling behaviour. | 1120 |
| 17795 | M | a male, although the upf markings are rather stronger, equally the uph markings are virtually non-existent apart from a vestigial discal mark. | 1890 |
| 22476 | M | I feel this has to be a male serratulae. | 1120 |
| 3742 | F | very pale and drab, with very few markings on the upf all of which are concentrated in s5-7, with s1-4 almost completely unmarked. The uph is almost completely unmarked with very pale, almost vestigial, markings. It is almost certainly a female based on body shape. It could be alveus, carlinae, or serratulae, the females of which are all lightly marked; I would plump for serratulae on the grounds that the uph is virtually unmarked (alveus and carlinae have pale but somewhat stronger uph markings), and the absence of any upf markings in s1-4 which matches the book illustrations of serratulae, whereas alveus and carlinae have some weak markings in these areas. The strength of the cell spot does give me some concerns about serratulae, though. All three have an upper altitude range in excess of 2000m, so the altitude would not tend to eliminate any of these three possibilities. | 2000 |
| 18308 | M | the colouring is strongly indicative of serratulae, and the discal s1 round symmetrical mark, and the narrow discal s4/5 and s6/7 seem to fit well for serratulae. The marginal s1/2 marks are a little less solid than the book illustrations of serratulae but I have found this elsewhere. The basal s7 spot of the lower is clearly circular and therefore serratulae, but in the specimen above, which is identical in just about every other respect, this spot is clearly rectangular and quite rounded at the internal edge where it meets the veins, but almost completely straight externally. So it is not serratulae? Maybe the colouring is not right for serratulae, and maybe the discal s4/5 is a little too wide. | 1120 |
| 25699 | M? | possibly a male as it appears that the end of the abdomen shows a hair tuft. The discal s1 bump is wide and non-leaning, the marginal s2 is neatly arch-shaped and filled in, the discal s4/5 mark is quite wide, and the basal s7 mark is nicely rounded, all adding up to a virtually 100% identification for serratulae. | 2000 |
17795_male_Hautes-Alpes_10Jul09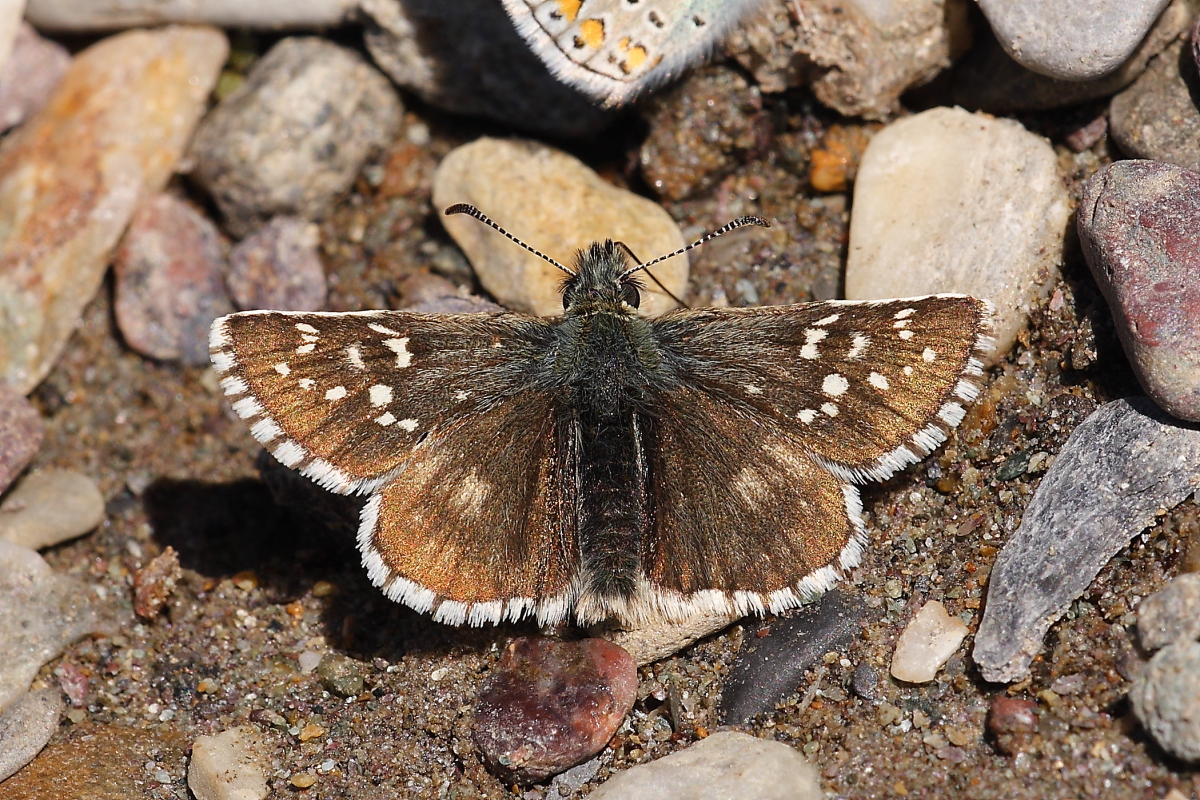 3742_female_Alpes-de-Haute-Provence_14Aug06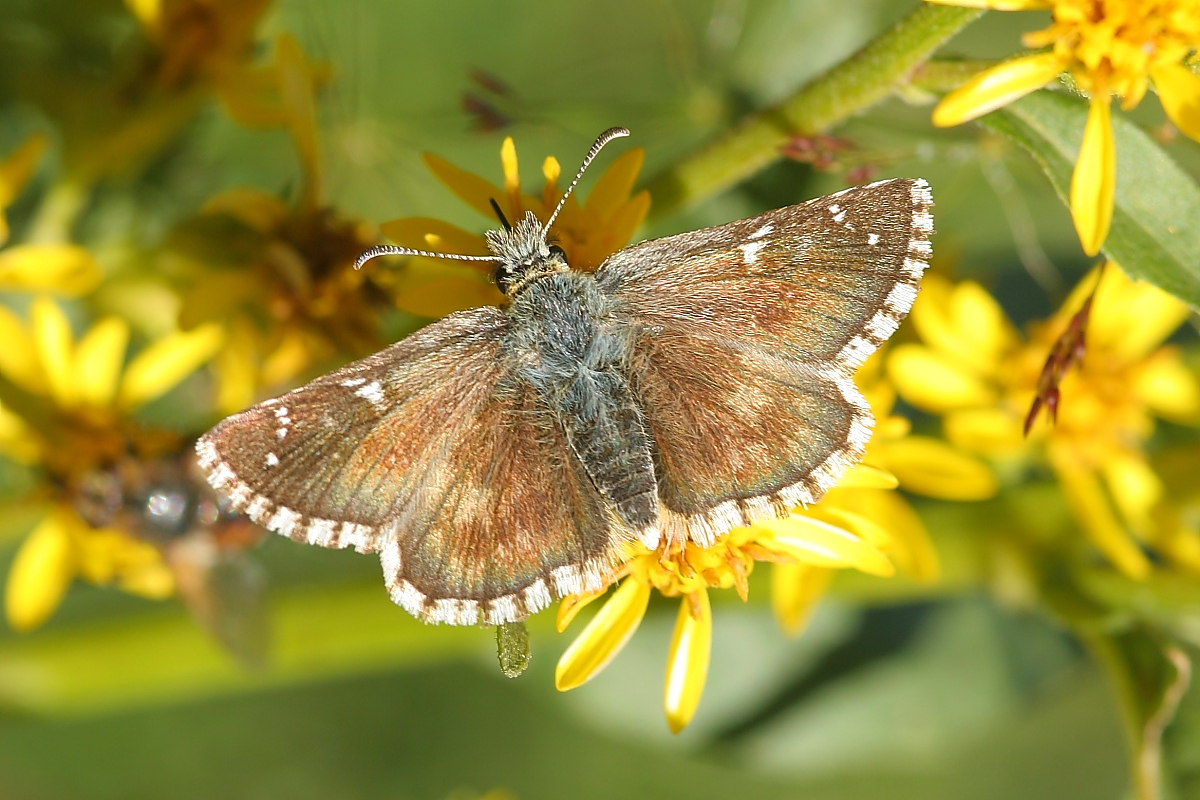 25699_sex?_Alpes-Maritimes_11Jun11